When MARY POPPINS opened in 1964, the musical-fantasy became an instant success and one of the most beloved Disney films of all time. Julie Andrews starred as the magical nanny, with Dick Van Dyke by her side as chimney sweep Bert. On December 19, Emily Blunt and Lin-Manuel Miranda will lead a new original musical and sequel, directed by Rob Marshall (CHICAGO and INTO THE WOODS).
AMC movie fans can see MARY POPPINS RETURNS in Dolby Cinema a day early at our Opening Night Fan Event. Plus, attendees will get a collectible gold heart pin and the movie soundtrack.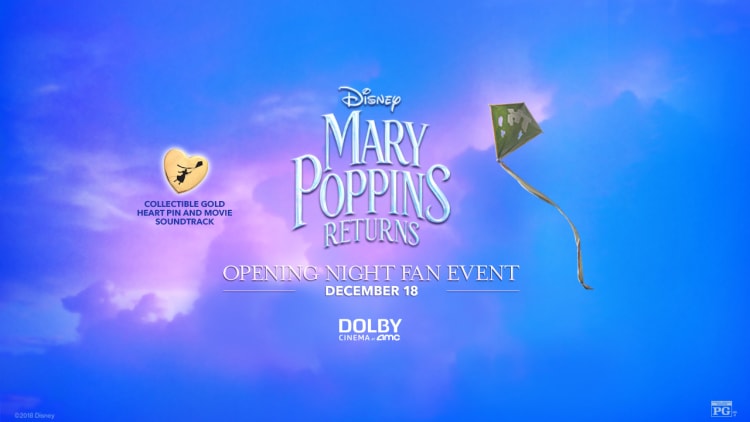 Marshall had mixed feelings about taking on the responsibility of MARY POPPINS RETURNS. "It was a combination of great trepidation and excitement at the same time," Marshall said. "Because I love the original film so much and feel so strongly about that film, I actually embraced this idea of doing it, because I thought, 'It's going to be done anyway,' and I want to be a part of protecting the original film and the tone of the film, so that I could pay homage to the first film and at the same time create a completely original musical for film, which I always wanted to do."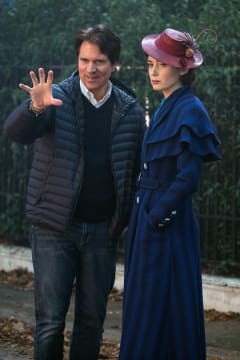 In the new musical, set in Depression-era London, the Banks children are all grown up. Jane (Emily Mortimer) is following in her mother's activist footsteps, and Michael (Ben Whishaw) is raising a family of his own. Following a personal loss, Michael tries, and struggles, to keep the pieces together for his three kids, like many of the time. Searching for fun and adventure, the new generation of Banks children find their father's old kite, which, on a windy day, "catches" a nanny with unique magical skills.
Fans of the original film will sense a familiarity in MARY POPPINS RETURNS, not only in the continuation of the story but also the hand-drawn style. To retain the "Mary Poppins DNA," Marshall took inspiration from the classic film and the book series by P.L. Travers. For instance, the scene in which Mary and the children go inside of the family's Royal Doulton bowl is directly from one of Travers's books.
The big challenge, Marshall said, was finding the narrative, as the books are more episodic. "I came up with this idea of setting it in the 30s, which I was very excited about because that's when the books were set," he said. "And I think the Depression era is, in some ways, very accessible now because the struggles of life and dealing with holding onto your home and the economic struggles, but also it was a rather dark time. I feel like the climate of our time right now, unfortunately, is rather dark. The fact that Mary Poppins comes into that world as a ray of light and a ray of hope was really intentional."
In addition to the original storyline, the film features an original score by Marc Shaiman, with lyrics by Scott Wittman. For Marshall, who has extensive theatre experience, the musical was a natural fit. "I always feel like musicals on film are really a hybrid of theatre and film, because you approach them very similarly," Marshall said. "I will say that the only way I could have ever written an original musical for film is to have had the experience I've had on Broadway, because that's where you learn the craft of musicals and how they're made … the songs have to grow out of story — it has to feel seamless."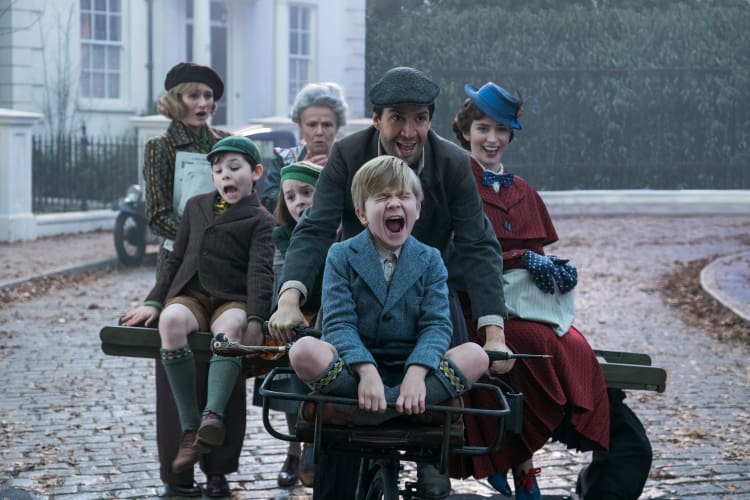 Marshall put together an amazing ensemble cast to bring MARY POPPINS RETURNS to life, including cameos from Angela Lansbury and Dick Van Dyke, who said he felt the same energy on set that he did 55 years ago.
"For the character of Mary Poppins, Emily Blunt was the first and only choice for me," Marshall said. "It was so obvious. It was the quickest decision I ever made, because [Mary] has to be so many things, and Emily has all of those things and I knew it having worked with her on INTO THE WOODS."
The character, he continued, had to hold an air of sophistication and sternness, but also childlike joy, humor and warmth, as well as be able to sing and dance. Tony Award-winner Lin-Manuel Miranda is well-versed in both, having written and starred in the hit Broadway musical "Hamilton."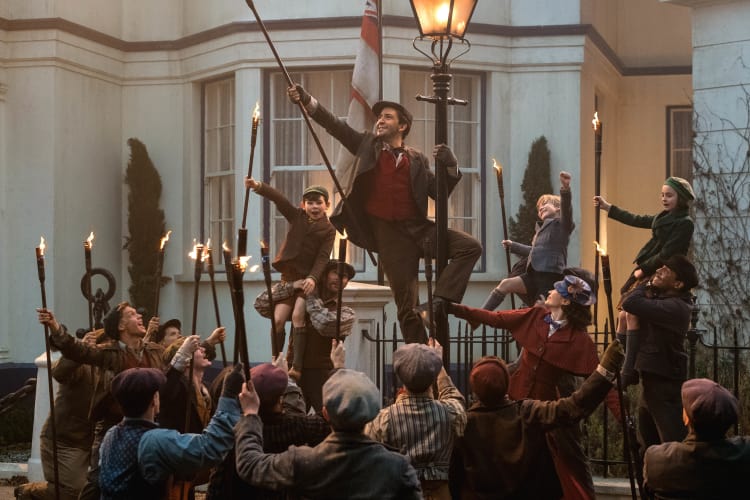 In MARY POPPINS RETURNS, Miranda plays a gas lamp lighter who used to run around with the chimney sweeps when he was a boy. "I met with [Lin] and what I was struck by was he's so authentic," Marshall said. "He has such an enthusiasm, and this character of Jack needs that pure spirit and that bright light as a cohort to Mary. There's an infectiousness in who he is, and he brought that to screen."
Every Mary Poppins story introduces a relative who has their own wild adventure. In this film, that character is Mary's cousin, Topsy, played by Meryl Streep. "Meryl Streep is one of my favorite people in the world," Marshall said. "Being able to work with her again was a total joy for me."
If you loved the original film, you will love MARY POPPINS RETURNS, as the sequel serves up a nice slice of nostalgia; however, anyone, from any generation, can enjoy this film — its message is for everyone. "Grownups forget," Marshall said. "They become cynical and weighed down by the struggles of life, and they forget the joy and wonder of a child and what they had as children. So if [the movie] can open a glimpse of that and just remember that for a moment, hopefully that can reverberate across your life … if that can bring someone some happiness and some joy in a dark time, that's the reason of the film."
Experience the magic on the big screen. Get tickets to MARY POPPINS RETURNS for your family at AMC today.