When THE LEGO MOVIE erupted onto the scene in 2014, it unlocked a new form of animation that smoothly captured the stop-motion approach of building with the classic blocks, as well as the traditional art of animating moving objects. The visuals that were attributed to the imaginations of Phil Lord and Chris Miller were unlike anything audiences had seen before.
Mike Mitchell, who directs THE LEGO MOVIE 2: THE SECOND PART and previously helmed TROLLS and SHREK FOREVER AFTER, remembers how exciting it was witnessing the original presentation of the first movie. "I loved it because it was like a real, even though it was expansive, it was like real Lego pieces and a big Lego set that a kid was really playing with," Mitchell said. "And I really liked the fact that it turned into a stop-motion animation look every once in a while. I was really turned on by that."

Mitchell joins the LEGO franchise as it moves into its fourth official film. Yes, THE LEGO MOVIE 2 is a direct sequel to the 2014 THE LEGO MOVIE. But in between the adventures of Emmet (Chris Pratt) and Wyldstyle (Elizabeth Banks), the animation studio actually improved its unique style on THE LEGO BATMAN MOVIE (2017) and THE LEGO NINJAGO MOVIE (2017).

Still, coming on board a LEGO project was eye-opening for Mitchell, who cut his teeth on traditional animation. "Little did I realize how many rules were set up," he explained. "Like, you cannot use any pieces that don't really exist. You can't bend any arms or any legs … For me, that was a big learning curve, and I found that all the limitations actually made the animators more creative. It made it feel way more creative what they got out of these characters because of the limitations."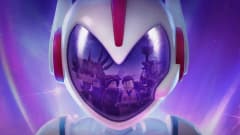 On the surface, THE LEGO MOVIE 2: THE SECOND PART acts as a rescue mission. When the city is taken over by Lego Duplo invaders, Wyldstyle is kidnapped, so Emmet and his new friend, Rex Dangervest (also voiced by Chris Pratt), have to save her.
But along the way, Mike Mitchell and Trisha Gum were able to really push the envelope on what you can do in a LEGO movie. Gum served as the Head of Story on THE LEGO BATMAN MOVIE and graduated to Animation Director for THE SECOND PART.
"We had the goal, going into this movie, that we wanted to mix a lot of different animation styles while keeping the charm of the first LEGO movie and what we set up on LEGO BATMAN and stuff," Gum said, "where it really feels like stop-motion animation and playing with Lego bricks. But we imagined the little girl whose world we blast into in the second half of the movie that she is more creative and tactile and uses different mediums in her world. So, we have fabric and paper and crayons and glitter and stickers, and things like that. So, we had to come up with techniques to incorporate those into our world while still feeling like stop motion. We had our effects team really figure out, like, if a little girl was actually playing with fabric as though it's a water fountain, how would that fabric move so that it feels like somebody has actually physically animated it, rather than a CG cycle?"
At this point, it almost sounds like anything is possible with animation, especially when creating a world with Legos.
"The only limitations were the limitations like Mike was saying, of the physicalness of [the figures]," Gum said. "We had choreographers come in for our dance numbers, and they actually had dance moves with those same limitations. Leaning into those limitations really brought the charm, and it felt like the physicality of what actually playing with the toy would be. But I think every challenge that we gave to our team of incorporating glitter or fabric or anything like that, I think they rose to that challenge and I think overcame every technical hurdle that we had."
Mitchell remains a tremendous fan of the original LEGO MOVIE — so much so that he actually told AMCÓ he didn't think a sequel needed to be attempted, because the original story was so perfect.
"It wasn't until we heard the story for this one that we thought, 'Oh my gosh, we have to be a part of it. That's such a great expansion and extension of this story,'" he said.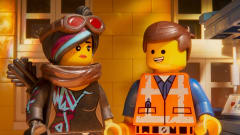 And the way that Mitchell and Gum tell it, the LEGO story can go in any different direction from here, because sophisticated animation techniques have made it so that the genre is only limited by the imaginations of the people stepping up to tell unique stories.
"It's becoming less of a genre and more of a medium," Gum said. "I think people are really open to animation. It's just a medium, like live action is a medium or graphic novels are a medium. It's storytelling. And I think people are looking for more diverse stories in animation, from tone to story to the lead characters, that it's not just a kid's movie genre anymore. And I think that's an exciting time for us as filmmakers to be able to tell stories in animation."
Mitchell concluded, "I think finally the audience is starting to realize that this isn't just for little kids anymore. It's for everyone. I think animation film has been sitting at the kiddie table for a while at Thanksgiving, and now it's going to expand and just become more diverse."
Chris Pratt and Elizabeth Banks return for THE LEGO MOVIE 2: THE SECOND PART, which will be in theatres starting on February 8. Get your tickets now!