Now that movie audiences have been introduced to Superman (Henry Cavill), Batman (Ben Affleck), Wonder Woman (Gal Gadot) and Aquaman (Jason Momoa) in the DC Extended Universe, Warner Bros. can start to explore some of the lesser-known, though equally exciting, superheroes in its comic book stable.
SHAZAM! will bring young Billy Batson into the fold — a troubled, orphaned teenager who is selected by an ancient wizard to bear the mantle of Shazam, which essentially means that he can turn into a superhero at the drop of a hat.
That's right. Shazam is a teenager in a man's body, which means that for SHAZAM!, director David F. Sandberg needed a leading man who could channel his inner 14-year-old. And he found that in Zachary Levi.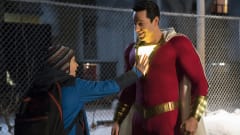 Ironically, Levi's most recognizable big-screen role prior to getting cast as Shazam was playing Fandral in the THOR movies for DC's rival, Marvel Studios. But last year, Levi spoke to a series of movie news outlets on the Toronto set of SHAZAM! and told CinemaBlend why his particular energy was perfect for the role of the high-spirited DC superhero. He explained:
"They knew they needed to cast someone that could be as exuberant or optimistic or sassy as a 14-year-old boy, and damn it, that's me in a nutshell. It's odd, too, because I've done so many things. My particular energy has gotten me into a lot of incredible jobs like "Chuck," like TANGLED, like ALVIN AND THE CHIPMUNKS, or whatever. It's always something that's got a lot of heart to these characters."
Levi continued, "There was definitely a part of me that felt like, 'Oh, maybe I'm never really going to have my shot at something like this,' because you need to be, I don't know, one of the Chrises — either starting super ripped or super moody or super sexy, whatever that is. I always felt like I was more of an every guy. I felt like I was following in a Tom Hanks kind of trajectory. But then, when I realized that we genuinely were making something between SUPERMAN and BIG, I was like, 'Damn, this is a dream job.' I couldn't have prayed or thought about this more."
Over at Marvel Studios, its cinematic universe has stayed fresh by telling diverse stories. Captain America is nothing like Thor, and the Guardians of the Galaxy couldn't be more different from Black Panther. As a result, Marvel's movies don't feel repetitive.
DC is starting to explore diversity in its films, allowing Wonder Woman (Gal Gadot) to hold down prequel films in both WONDER WOMAN and the anticipated WONDER WOMAN 1984. The same goes for James Wan's AQUAMAN, which plunged audiences into the deep-sea realm of Atlantis, showing off a corner of the DC world never before seen on screen.
SHAZAM! has the potential to take the DCEU in an even more radical direction, putting a child in the body of a superhero and watching the unexpected results. Zachary Levi will have to figure out how to use his powers to protect his foster family, defend his best friend (Jack Dylan Grazer), and stop the plot of the evil Dr. Thaddeus Sivana (Mark Strong).
According to Levi, his natural energy and enthusiasm is exactly what the DC Universe needs right now. AQUAMAN already started to shift the tone of the overall DCEU away from dark and gritty and more to audience-friendly and adventurous. From the looks of the first SHAZAM! trailer, David F. Sandberg's movie will continue to push things in that exciting direction.
See if Zachary Levi is right when SHAZAM! opens in AMC theatres on April 5.