Fathom at AMC

Fathom Events gives you the opportunity to experience Broadway shows, Metropolitan Opera performances, live concerts, sporting events, comedy shows, original programming and more. Enjoy it all with exceptional views that put you unbelievably close to the action.
Fathom also presents advance screenings of the latest movies, and brings classic movies back to the big screen. See it all at AMC.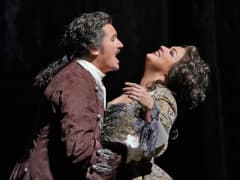 See "Adriana Lecouvreur" Live at AMC
Fathom Events and The Met: Live in HD present a broadcast of Cilea's "Adriana Lecouvreur," live in select AMC theatres nationwide on Saturday, January 12. Learn more and get your tickets today.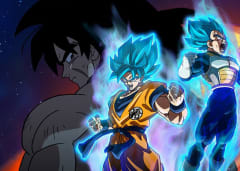 The Best Anime Movies Coming To Theatres
The days of having to wait years for the best new anime to come to America are over! Here are the best new anime movies in theatres now and coming soon.
Please allow approximately 20 extra minutes for pre-show and trailers before the show starts.2 hr 20 minNRReleased May 19

Get Tickets

Please allow approximately 20 extra minutes for pre-show and trailers before the show starts.2 hr 5 minReleased May 19

Get Tickets

Please allow approximately 20 extra minutes for pre-show and trailers before the show starts.1 hr 35 minOpening May 23

Advance Tickets

Please allow approximately 20 extra minutes for pre-show and trailers before the show starts.3 hr Opening Jun 3

Advance Tickets

Please allow approximately 20 extra minutes for pre-show and trailers before the show starts.1 hr 55 minOpening Jun 4

Advance Tickets

Please allow approximately 20 extra minutes for pre-show and trailers before the show starts.2 hr NROpening Jun 6

Advance Tickets

Please allow approximately 20 extra minutes for pre-show and trailers before the show starts.2 hr 25 minOpening Jun 12

Advance Tickets

Please allow approximately 20 extra minutes for pre-show and trailers before the show starts.1 hr 35 minNROpening Jun 13

Advance Tickets

Please allow approximately 20 extra minutes for pre-show and trailers before the show starts.1 hr 55 minOpening Jun 16

Advance Tickets

Please allow approximately 20 extra minutes for pre-show and trailers before the show starts.2 hr 30 minNROpening Jun 17

Advance Tickets

Please allow approximately 20 extra minutes for pre-show and trailers before the show starts.2 hr 55 minOpening Jun 19

Advance Tickets

Please allow approximately 20 extra minutes for pre-show and trailers before the show starts.2 hr Opening Jun 20

Advance Tickets

Please allow approximately 20 extra minutes for pre-show and trailers before the show starts.2 hr 30 minPG13Opening Jun 23

Advance Tickets

Please allow approximately 20 extra minutes for pre-show and trailers before the show starts.2 hr 15 minOpening Jun 25

Advance Tickets

Please allow approximately 20 extra minutes for pre-show and trailers before the show starts.2 hr 20 minOpening Jun 26

Advance Tickets

Please allow approximately 20 extra minutes for pre-show and trailers before the show starts.2 hr 10 minGOpening Jul 1

Advance Tickets

Please allow approximately 20 extra minutes for pre-show and trailers before the show starts.3 hr 30 minOpening Jul 8

Advance Tickets

Please allow approximately 20 extra minutes for pre-show and trailers before the show starts.3 hr 5 minOpening Jul 10

Advance Tickets

Please allow approximately 20 extra minutes for pre-show and trailers before the show starts.1 hr 50 minOpening Jul 11

Advance Tickets

Please allow approximately 20 extra minutes for pre-show and trailers before the show starts.1 hr 40 minOpening Jul 14

Advance Tickets

Please allow approximately 20 extra minutes for pre-show and trailers before the show starts.1 hr 45 minOpening Jul 16

Advance Tickets

Please allow approximately 20 extra minutes for pre-show and trailers before the show starts.3 hr Opening Jul 17

Advance Tickets

Please allow approximately 20 extra minutes for pre-show and trailers before the show starts.2 hr 10 minOpening Jul 21

Advance Tickets

Please allow approximately 20 extra minutes for pre-show and trailers before the show starts.1 hr 50 minOpening Jul 25

Advance Tickets

Please allow approximately 20 extra minutes for pre-show and trailers before the show starts.2 hr GOpening Jul 28

Advance Tickets

Please allow approximately 20 extra minutes for pre-show and trailers before the show starts.2 hr 20 minOpening Aug 6

Advance Tickets

Please allow approximately 20 extra minutes for pre-show and trailers before the show starts.5 hr 15 minOpening Aug 8

Advance Tickets

Please allow approximately 20 extra minutes for pre-show and trailers before the show starts.2 hr 30 minOpening Aug 11

Advance Tickets

Please allow approximately 20 extra minutes for pre-show and trailers before the show starts.1 hr 45 minGOpening Aug 25

Advance Tickets

Please allow approximately 20 extra minutes for pre-show and trailers before the show starts.3 hr 40 minOpening Sep 1

Advance Tickets

Please allow approximately 20 extra minutes for pre-show and trailers before the show starts.1 hr 50 minOpening Sep 10

Advance Tickets

Please allow approximately 20 extra minutes for pre-show and trailers before the show starts.2 hr 30 minOpening Sep 22

Advance Tickets

Please allow approximately 20 extra minutes for pre-show and trailers before the show starts.1 hr 50 minGOpening Sep 29

Advance Tickets

Please allow approximately 20 extra minutes for pre-show and trailers before the show starts.2 hr Opening Oct 13

Advance Tickets

Please allow approximately 20 extra minutes for pre-show and trailers before the show starts.2 hr 20 minPGOpening Oct 27

Advance Tickets

Please allow approximately 20 extra minutes for pre-show and trailers before the show starts.3 hr Opening Oct 27

Advance Tickets

Please allow approximately 20 extra minutes for pre-show and trailers before the show starts.3 hr 30 minOpening Nov 10

Advance Tickets

Please allow approximately 20 extra minutes for pre-show and trailers before the show starts.2 hr 30 minPG13Opening Nov 17

Advance Tickets

Please allow approximately 20 extra minutes for pre-show and trailers before the show starts.3 hr 40 minOpening Nov 17

Advance Tickets

Please allow approximately 20 extra minutes for pre-show and trailers before the show starts.1 hr 40 minOpening Dec 1

Advance Tickets

Please allow approximately 20 extra minutes for pre-show and trailers before the show starts.2 hr 30 minOpening Dec 15

Advance Tickets

Please allow approximately 20 extra minutes for pre-show and trailers before the show starts.2 hr 35 minPGOpening Dec 16

Advance Tickets

Please allow approximately 20 extra minutes for pre-show and trailers before the show starts.2 hr 30 minOpening Jan 26

Advance Tickets

Please allow approximately 20 extra minutes for pre-show and trailers before the show starts.2 hr 45 minOpening Feb 23

Advance Tickets

Please allow approximately 20 extra minutes for pre-show and trailers before the show starts.3 hr 5 minOpening Mar 29

Advance Tickets

Please allow approximately 20 extra minutes for pre-show and trailers before the show starts.2 hr 45 minOpening Apr 19

Advance Tickets

Not finding what you're looking for?

Please allow approximately 20 extra minutes for pre-show and trailers before the show starts.3 hr ROpening Jun 2

Advance Tickets

Please allow approximately 20 extra minutes for pre-show and trailers before the show starts.2 hr 15 minPGReleased May 20

Get Tickets