Fathom at AMC

Fathom Events gives you the opportunity to experience Broadway shows, Metropolitan Opera performances, live concerts, sporting events, comedy shows, original programming and more. Enjoy it all with exceptional views that put you unbelievably close to the action.
Fathom also presents advance screenings of the latest movies, and brings classic movies back to the big screen. See it all at AMC.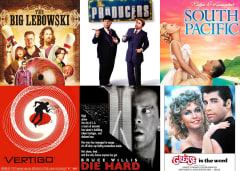 7 Classics Back on the Big Screen
All year, AMC is bringing you the classic movies you love the way they were meant to be seen: on the big screen. Learn more about the iconic films celebrating anniversaries at an AMC near you.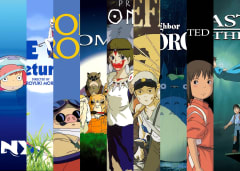 9 Anime Films at Studio Ghibli Fest
If you love Totoro, No-Face and Princess Mononoke, don't miss Studio Ghibli Fest 2018 at AMC. See which of your favorite anime films are coming back to the big screen, and get advanced tickets.
Pre-show and trailers run for approximately 20 minutes before the movie starts.2 hr RReleased Dec 17

Get Tickets

Pre-show and trailers run for approximately 20 minutes before the movie starts.3 hr 20 minNROpening Jan 20

Advance Tickets

Pre-show and trailers run for approximately 20 minutes before the movie starts.1 hr 50 minNROpening Jan 24

Advance Tickets

Pre-show and trailers run for approximately 20 minutes before the movie starts.1 hr 50 minOpening Jan 27

Advance Tickets

Pre-show and trailers run for approximately 20 minutes before the movie starts.2 hr 25 minNROpening Jan 28

Advance Tickets

Pre-show and trailers run for approximately 20 minutes before the movie starts.2 hr 10 minOpening Jan 31

Advance Tickets

Pre-show and trailers run for approximately 20 minutes before the movie starts.3 hr 40 minOpening Feb 2

Advance Tickets

Pre-show and trailers run for approximately 20 minutes before the movie starts.3 hr 40 minOpening Feb 6

Advance Tickets

Pre-show and trailers run for approximately 20 minutes before the movie starts.2 hr Opening Feb 7

Advance Tickets

Pre-show and trailers run for approximately 20 minutes before the movie starts.1 hr 45 minOpening Feb 10

Advance Tickets

Pre-show and trailers run for approximately 20 minutes before the movie starts.2 hr 55 minOpening Feb 17

Advance Tickets

Pre-show and trailers run for approximately 20 minutes before the movie starts.1 hr 40 minOpening Feb 19

Advance Tickets

Pre-show and trailers run for approximately 20 minutes before the movie starts.4 hr Opening Feb 28

Advance Tickets

Pre-show and trailers run for approximately 20 minutes before the movie starts.2 hr 55 minOpening Mar 2

Advance Tickets

Pre-show and trailers run for approximately 20 minutes before the movie starts.2 hr 55 minOpening Mar 6

Advance Tickets

Pre-show and trailers run for approximately 20 minutes before the movie starts.2 hr 50 minNROpening Mar 10

Advance Tickets

Pre-show and trailers run for approximately 20 minutes before the movie starts.1 hr 55 minOpening Mar 13

Advance Tickets

Pre-show and trailers run for approximately 20 minutes before the movie starts.2 hr 10 minOpening Mar 14

Advance Tickets

Pre-show and trailers run for approximately 20 minutes before the movie starts.2 hr 15 minOpening Mar 24

Advance Tickets

Pre-show and trailers run for approximately 20 minutes before the movie starts.5 hr 20 minOpening Mar 30

Advance Tickets

Pre-show and trailers run for approximately 20 minutes before the movie starts.2 hr 25 minNROpening Mar 31

Advance Tickets

Pre-show and trailers run for approximately 20 minutes before the movie starts.5 hr 20 minOpening Apr 3

Advance Tickets

Pre-show and trailers run for approximately 20 minutes before the movie starts.2 hr 20 minNROpening Apr 7

Advance Tickets

Pre-show and trailers run for approximately 20 minutes before the movie starts.1 hr 40 minOpening Apr 22

Advance Tickets

Pre-show and trailers run for approximately 20 minutes before the movie starts.3 hr 40 minOpening Apr 14

Advance Tickets

Pre-show and trailers run for approximately 20 minutes before the movie starts.2 hr 10 minOpening Apr 18

Advance Tickets

Pre-show and trailers run for approximately 20 minutes before the movie starts.2 hr 15 minOpening May 5

Advance Tickets

Pre-show and trailers run for approximately 20 minutes before the movie starts.3 hr 30 minOpening May 11

Advance Tickets

Pre-show and trailers run for approximately 20 minutes before the movie starts.3 hr 30 minOpening May 15

Advance Tickets

Pre-show and trailers run for approximately 20 minutes before the movie starts.2 hr 20 minNROpening May 19

Advance Tickets

Pre-show and trailers run for approximately 20 minutes before the movie starts.2 hr 5 minOpening May 19

Advance Tickets

Pre-show and trailers run for approximately 20 minutes before the movie starts.1 hr 55 minOpening Jun 16

Advance Tickets

Pre-show and trailers run for approximately 20 minutes before the movie starts.2 hr 10 minOpening Jul 21

Advance Tickets

Pre-show and trailers run for approximately 20 minutes before the movie starts.2 hr 30 minOpening Aug 11

Advance Tickets

Pre-show and trailers run for approximately 20 minutes before the movie starts.3 hr 40 minOpening Sep 1

Advance Tickets

Pre-show and trailers run for approximately 20 minutes before the movie starts.2 hr 30 minOpening Sep 22

Advance Tickets

Pre-show and trailers run for approximately 20 minutes before the movie starts.2 hr Opening Oct 13

Advance Tickets

Pre-show and trailers run for approximately 20 minutes before the movie starts.3 hr 30 minOpening Nov 10

Advance Tickets

Pre-show and trailers run for approximately 20 minutes before the movie starts.1 hr 40 minOpening Dec 1

Advance Tickets

Not finding what you're looking for?

Pre-show and trailers run for approximately 20 minutes before the movie starts.2 hr NROpening Jan 26

Advance Tickets

Pre-show and trailers run for approximately 20 minutes before the movie starts.3 hr 10 minNROpening Jan 23

Advance Tickets